If you try to follow the world of digital marketing, you'll soon find your head spinning. Heck, we work in this industry every day, and we are in constant learning mode as things can change so quickly. Running your business well and getting a good handle on digital marketing at the same time is very difficult to do. If you find yourself unable to do much, there is one side of online marketing that we recommend you spend a bit of time on: local SEO.
Here's the deal – if you don't do local SEO, you are pretty much gifting customers, revenue, and profits to your competitors. It's that simple. Consider this scenario:
Person needs a service you provide
They open Google on their phone and search for "<your service> in Auckland"
Your competitors' businesses appear on the page, but yours doesn't because you don't do any local SEO
The person contacts the other businesses, and one of those businesses gets the work. And the repeat work. And the referral business. And the repeat of the referral business. And the referrals of the referrals… you get the idea
It's not good, is it? Three more minutes of your time and the rest of this blog will give you the essential introduction to local SEO that you need.
What is local SEO?
Local SEO is a term that describes actions that you can take to ensure your business appears in Google when potential customers in your area search for the services you provide.
Google understands when someone is looking for a local business when they do a search. You don't even need to type where you are. Try it yourself – go to Google and type "pizza delivery".
You more than likely saw results for pizza delivery businesses close to you or that cover your location. Why? Google knows you are not interested in pizza delivery in Canterbury or Melbourne or Paris if you are in Auckland. So, it shows you results that will actually interest you. (If you were in one of these cities however, you would have seen a very different set of search results.)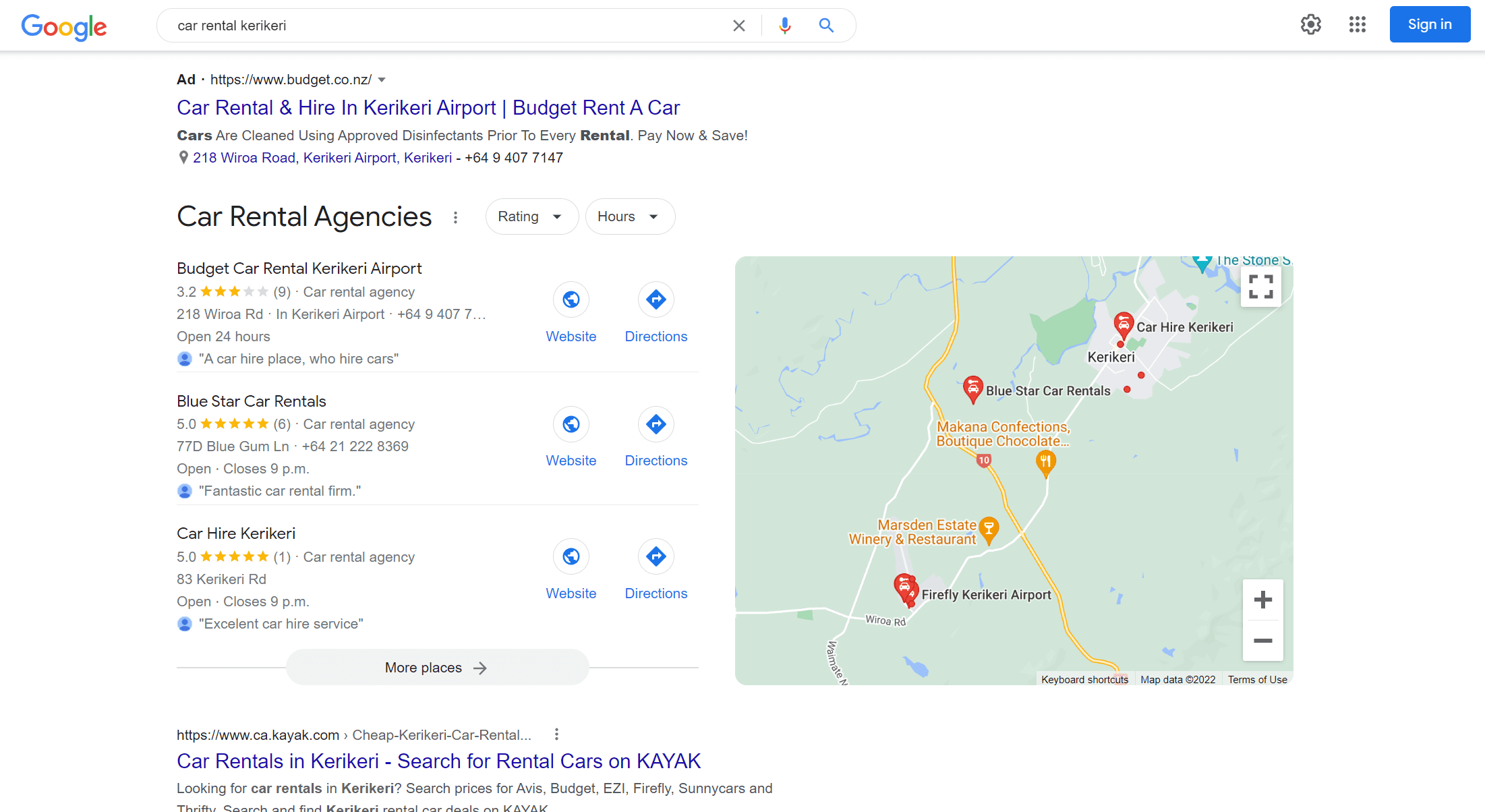 What do local search results look like?
While Google keeps experimenting with search results, as of writing this, most local search results usually pop up in a small map section near the top. This section has a map, details of three businesses and a "More Businesses" button. These are the businesses that are winning local SEO for that search in that area.
Then there are the main results below, which are also usually local businesses.
Plus, local search results often stand out more than normal listings you see in Google as they can include photos and other detailed information, like opening hours or reviews.
How do you win at local SEO?
There are three key factors that Google considers when someone does a local search:
Relevance
Prominence
Proximity
You can't do a lot about proximity as the answer to whether you service a particular area or not is binary (to use a computing pun). So let's look at the other two factors.
Relevance means Google wants to know if you can help the person doing the search. It gets this understanding by looking at a range of sources, including your website and Google My Business (Google's free tool that lets you add details about your business) listing. At the very least, local SEO involves optimising your site and Google My Business listing.
Prominence is how visible you are online to Google compared to your competition. Do you get mentioned on other websites, are you listed in local directories, are there reviews of your business online, do you post to social media? All these things help to raise your online prominence, so they need to be optimised as well.
Don't neglect local search 
If you think local SEO is hard and not something you can handle by yourself, get help from an SEO agency in Auckland like ours. We'll craft a great local organic ranking strategy, and help you get your hands on some of that business that is currently going to your competitors. Give us a call today and let's discuss your local SEO game plan.